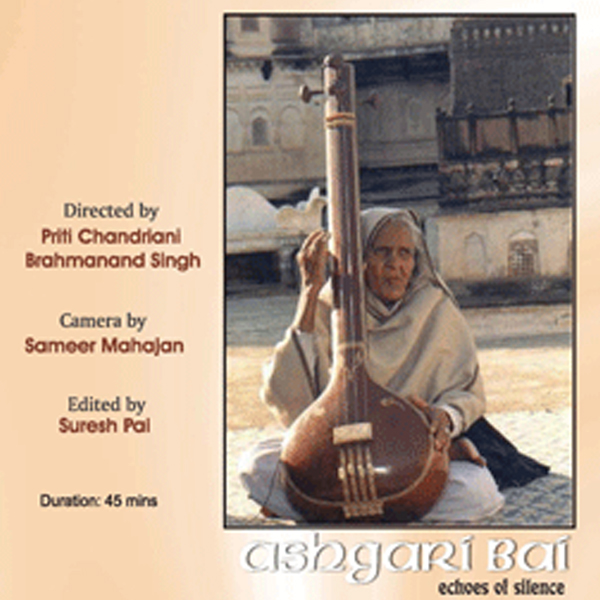 Ashgari Bai: Echoes of Silence – 1997
At 86, Ashgari Bai was probably the oldest living exponent of the dying art of `Dhrupad', the most orthodox form of Indian Classical music. She was also probably the only woman to have espoused this austere and invocative form of music which has invariably been regarded the most masculine of Indian Classical music genres. And she has been conferred national awards including the Padmashree.
Ironically, however, she remains a curiously anonymous and lonely figure today, battling against insurmountable odds in a small town of Madhya Pradesh in India. Trained by a disciplinarian teacher, Ustaad Zahur Khan of Gohad, Bai today misses the good old days of her patron, Rajah Veer Singh Judev and other exciting associations of her time.
With almost nil archival material on her available, the forty-five minute documentary captures memories she can re-live with the tingle of a thousand lost sensations, in an almost abandoned Fort, today. Showcasing her wit, her forthrightness, her charm and her indomitability, this documentary is a portrait of a precious gem of India who insists on living life on her own terms.
Fortunately, her story was captured on film before it was too late…a charming film.– Mid-Day
This documentary is also, perhaps, the story of any number of musicians in India which have slipped into poverty, loneliness and oblivion. — Times of India
An engrossing 45-minute documentary on the life and times of this extraordinary lady.—
Afternoon on Sunday
Her righteous anger found filmmakers Priti Chandriani and Brahmanand Singh deciding to make amends for the nation.– Sunday
Adoring camera…superb editing…the finished product, like the subject, is perfect.